Many write to us asking for houses of 90 square meters with 1 floor, which is why today we are going to show you a charming design inspired by Nova City . This 90 square meters one-level home has a lot to offer, not only inside but also outside.
If you were looking for a home design with a classic-modern style, this project could be appropriate for your tastes and needs. Will you join us to meet it?
Build a House Today
Appreciating the current economic situation, it is known that many families face difficulties in building their own homes. The cost of living is increasing, and the possibility of owning a roof of one's own is becoming more and more distant. However, this is a dream that we should not give up since, with a little sacrifice, we can all become owners. And this is a design that can be very well adapted to budgets of different sizes.
This is a single-story design where the home has an area of ​​90 square meters, built on a plot of 17 meters wide by 13.50 meters deep. Although here, the built surface does not occupy the entire land, the free spaces will be useful for other purposes.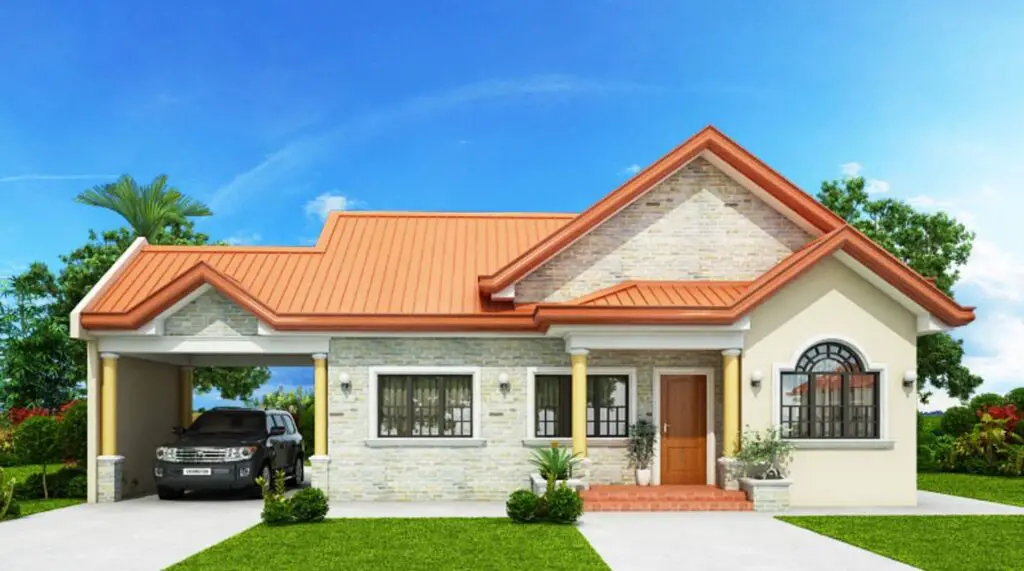 Plans of 90 Square Meter
When we stop to see this architectural design, we see a final plan that radiates objectivity and functionality due to the fact that it is possible to combine a living room, a dining room, three bedrooms, a kitchen, two bathrooms, a covered parking lot and an open terrace. Everything is necessary for a typical family to live comfortably inside.
The covered porch offers a perfect welcome to the living room of this contemporary home. It has a very comfortable design with a 3-seat sofa and a complete entertainment system.
The living room and dining room have an open design, while the L-shaped kitchen is located on the left side, allowing for the practical organization of space. Due to this design, we see an open and fluid flow for casual dining.
The dining room is located in a central area, easily accessible from each of the rooms in the house. While from the dining room, we can reach the terrace at the back through the sliding glass doors. This location allows a great entry of natural light and fresh air to ventilate the entire interior of the house.
The only more isolated space in this house is the garage, which is located on the left side.
For the bedrooms, the farthest corners have been used, which gives them a certain freedom and privacy.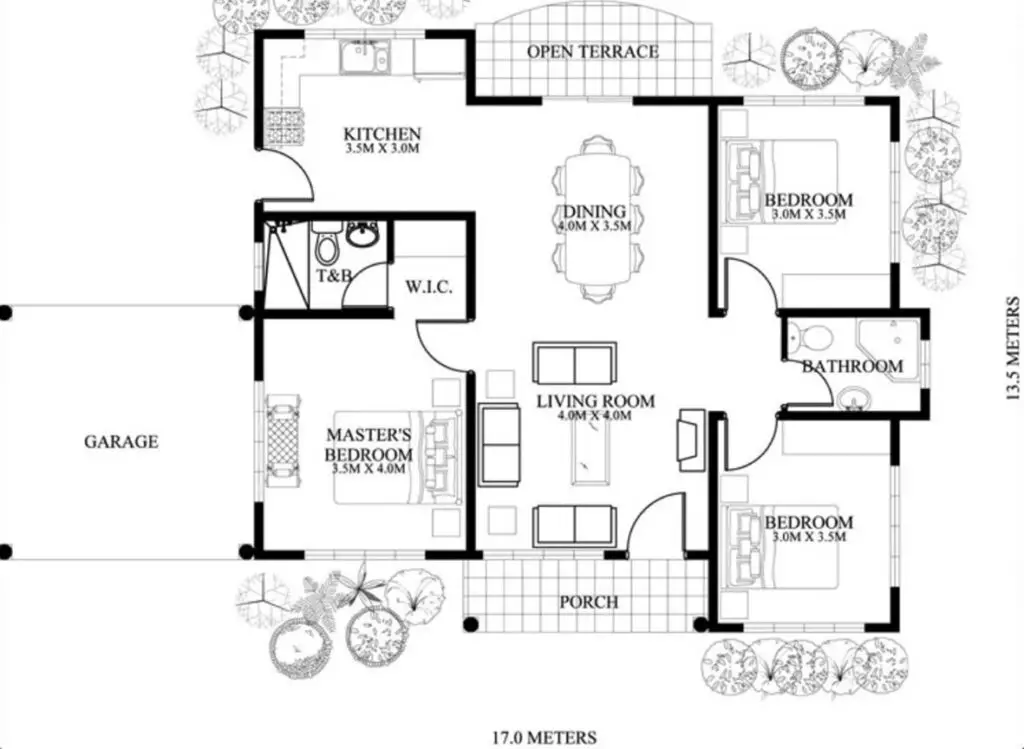 Facade for a House of 90 Square Meters
Observing the exterior of this contemporary house, we see the subdivisions, which without being completely isolated, achieve the independence that is pleasing to the eye. The garage on the left side acquires a very interesting aspect. It looks strong thanks to the circular columns that support the roof, an element that is repeated on the main entrance.
The warm colors and natural stone used as cladding for most of the exterior façade give this contemporary house an indisputable homey feel. These premises are complemented by a delicate front garden.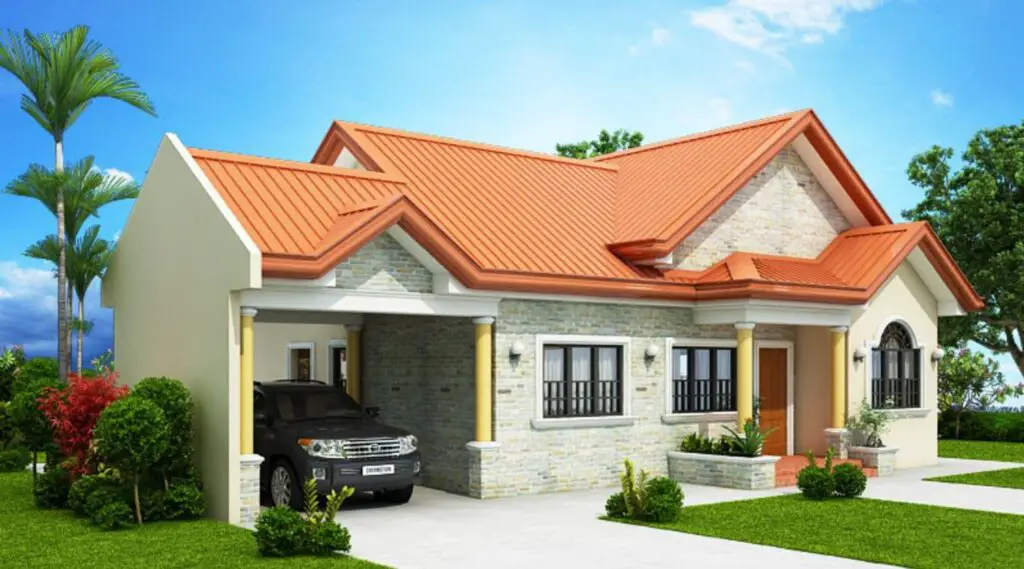 With a warm exterior and a prominent appearance, this house surprises with its unique style of materials, its system of details, and the beautiful windows, which in conjunction with the type of roof and the color palette, achieve a beautiful ensemble. This structure is stunning for families who love independence, privacy, and also freedom.
If you want to know more plans of houses of 90 square meters, be sure to visit this link that we have just shared. There you will find another design with three rooms. You can also check out Rudn Enclave for fascinating home décor.