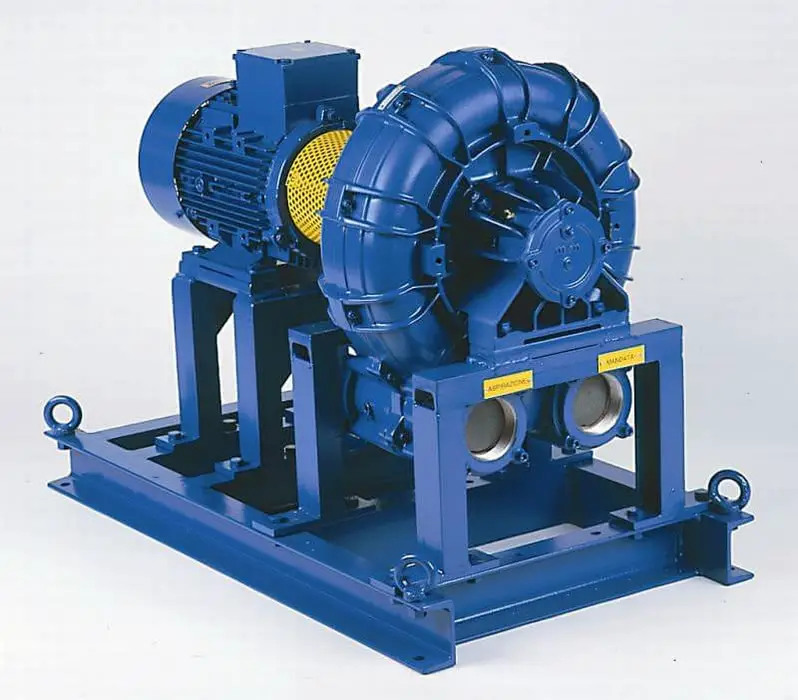 The popular industrial use of hydraulic and pneumatic systems served as a launching platform to improve upon the performance of existing parts and the invention of components to bridge operational gaps. This is where side channel blowers come into play. Side channel blowers are known for their effectiveness in the production of large volumes of filtered, clean, and dry compressed fluids.
How does a Side Channel Blower Operate?
The side channel blower transmits flows of fluid mediums with the rotation of a fan assembled with many blades. The compressed fluid is then forced through an enclosed and narrow fitting pump at high velocities. The channel pressure is intensified by a turbulent stream in the radial section.

The operating mechanism behind a side blower's function makes it capable of building great differential pressure between inlets and outlets. The additional workload placed upon its parts increases in proportion to its built-up pressure, along with the escalating rate of system resistance. With this principle, the side channel blower is applicable in a great range of capacity involving pressure differences.

The heavy-duty function of side channel blowers are often requested by a lot of engineering industries—few companies expertise in their production. The most notable ones are the BIBUS side channel blowers, which can operate and compress large quantities of fluid mediums without the difficulties produced by mechanical residues such as lubricating fluids and oil.
Applications of Side Channel Blowers
The huge capability offered by the working principle of side channel blowers makes them suitable for permanent or non-continuous operation. They are designed for daily use in overpressure, negative pressure, and combined applications. Their applications include:

Fluid Compression
Dry blowing
Vacuum lifting
Point suction
Sealing air
Blowing material
Aeration of biological processes
Pneumatic Conveyance
Paper Production
Printing Products
Vacuum Handling
Wood Processing
Wood Printing
Plastics Industry
Medical Industry
General Transportation of Fluid Mediums:
Pros of Side Channel Blowers
Side Channel blowers have a well-known system used for transporting different types of fluids. They can even compress large quantities of mediums to be applied in a variety of scenarios and requirements. The simple design makes them affordable, and their non-contact configuration means they have parts in danger of wear and tear. 

Modern side channel blowers are made with integral drives. They are then installed onto the electric motor, which allows for the adjustment of blower output that matches the exact requirements for operation. The drives can be used as energy-saving devices allowing the rotational speed of the blower to be reduced to the lowest allowable frequency.

Side Channel blowers can be used for environments designated as potentially explosive atmospheres. The electric drive motors can be replaced with hydraulic motors, which are non-sparking. Modular attachments applied with the blowers makes them certified for use in explosive atmospheres. 

Another positive trait of side-channel air blowers would be the reduction of noise with their use. This is achieved through the installation of a silencer at the outlet, making them efficient for applications where noise could pose a problem.

Cons of Side Channel Blowers
Even side channel blowers that are capable of heavy purposes and operations come with negative traits. 

Requires changing of gear oil at required intervals
Some models are limited in the volumetric performance range
Requires an outlet filter to capture carbon residue from vanes
Protection with temperature consistency 
Vacuum level monitoring/limiting devices
Typical Characteristics of Side Channel Blowers
Side Channel blower fluid flow rates decrease as the pressure applied increases. The power required by its shaft ,and the temperature of the parts, increase at the same time. This limits the performance of the side-channel blower due to the motor power requested and if the mechanisms of the blower reach the maximum value of discharge temperature. 
A manufacturer always specifies the nominal motor load, maximum pressure, and tolerable ambient temperature. This gives way for its continuous operation based upon the datasheet accompanying a side-channel blower product.
Conclusion
Side Channel blowers are heavily utilized within the engineering industry and has found its way with several other applications in different fields. Its advantages outweigh its disadvantages and is capable of accomplishing great amounts of work.