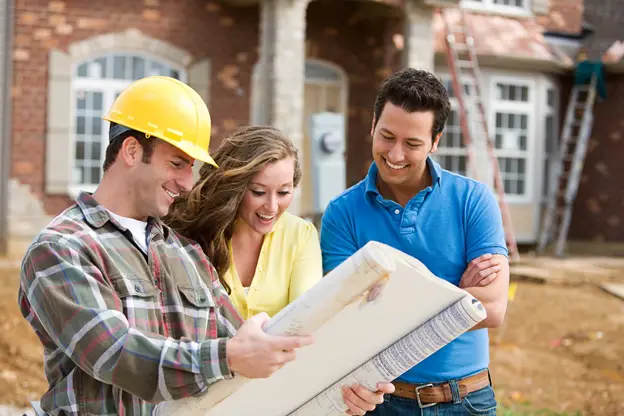 Congratulations on building your new house! It's an exciting time filled with possibilities. Building a new house on your own gives you a lot more flexibility in floor plans and designs. You have a say in what materials are used and what eco-friendly options are installed during the build. The whole process is customized to your preferences. It's a huge difference from selecting from a set of limited models in a housing development or sifting through listings of older homes. 
If you've got the time, the budget, and the inclination, going through the building process can be very rewarding. You'll get to be involved from start to finish, and when the house is complete, it'll feel like a big achievement. 
Now that you've decided to build a house, you need to find someone to build it for you. Finding a contractor to take on your project is the most important part of building a new house. Your relationship with them, their expertise and their professionalism will determine how your home turns out. Here are some helpful tips on how to find the right contractor for the job. 
Do Your Research
If you're reading this, chances are this is your first time building a custom house. That's fine, but we should tell you that the first thing you need to do is a lot of research on how contractors work. You need to know what contractors can do, which parts of the home they will need to subcontract out for, and how long it usually takes to build a house. 
People building homes should also spend time looking at which contractors are available in their area. It's unrealistic for contractors to travel great distances for a project. They know some travel will be involved, but longer distances will add costs to your project estimate. 
Visit contractor websites, take a look at their portfolios, and narrow your search down to a handful of contractors you want to reach out to directly. Once you have your list, you can start calling them to set appointments to talk about what you're looking for and if it's something they can make happen. 
Review A Potential Contractor's Work
When you're in discussions about your new house, you want to make sure you're hiring a contractor with a good track record. Don't take a chance on the company with a convincing salesperson. It's not worth the risk on your first home. Leave that to the pros who know how to deal with the challenges that will inevitably arise during construction. 
Instead, ask contractors for samples from their portfolio of completed work. Take a look at homes they've built and if they align with what you're interested in. It's probably a leap too far to expect a company that specializes in one style of home to do something different. 
Another thing everyone should do is ask the contractor for a list of recent clients you can talk to. It's a great idea to write or call them and ask them about the ups and downs and an overall review of the contractor's work. Hearing from past clients is a lot easier now with online reviews. Make sure to check those as well. 
The Right Contractor Will Be Able to Put Your Ideas to Work
Throughout your project, you'll develop an interesting relationship with your contractor. You'll be in frequent contact with each other about hiccups during the build, material options, regular planning updates, and other meetings. It's a working relationship that lasts months. To be successful, you need to find a contractor you feel comfortable with.
You shouldn't work with a contractor you feel uncertain around or are apprehensive about bringing concerns to. Conversations should be frequent and transparent. The best contractors offer solutions not problems. They find a way to make your dream home into a reality. This, of course, has its limits. You should want your contractor to be able to tell you "no way" if something simply can't be done.
Trust your intuition on deciding which contractor to go with. If a contractor is bringing you designs and mockups that look great and are in line with what you envision, that's a good sign. If things are off at the beginning, they're probably not going to get better.
Talk Price Early and Often 
Make sure both you and whichever contractor you choose are clear about budgets before any work begins. When a brand-new house is built, there are bound to be fluctuations in the final cost versus what was originally projected. That's normal. However, you don't want things going too far. You must control costs and hold contractors accountable for what they do. After all, it's your money. Get a contractor who is committed to finishing as close to budget and on time as possible.